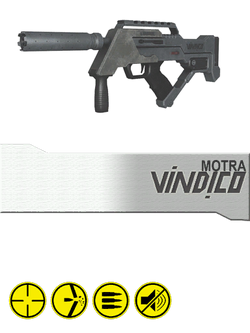 Item attributes are specific attributes for items, including tools and weapons. Only the Betty Boom has no specific attributes.
List of item attributes
Edit
High DamageEdit
Weapons with High Damage all have a minimum of 100 Damage. High Damage is the most common attribute (13 Weapons) along with Wall Piercing.
AutomaticEdit
Weapons with the Automatic Attribute can be operated in fully-automatic mode.
Fast / High Rate of FireEdit
Firearms with High Rate of Fire can fire significantly faster than most other firearms. The Dual Katanas are faster than the 'normal' Katana as well, thus they can be considered as having this attribute.
High Capacity / Large MagazineEdit
Weapons with Large Magazines all have more rounds in each magazine. The Medkit is also classed as a High Capacity equipment.
Weapons with Scope can zoom further than other weapons. Weapons with a secondary zoom with highlight entities in the world without the need for EYE Vision, and works on Metastreumonic entities unlike EYE vision.
White - Human
Dark Red - Metastreumonic-force
Silent Weapons are almost completely suppressed and will help you stay hidden, as your enemies can't hear where you are shooting from. The Medkit is also classed as a Silent equipment.
Armor PiercingEdit
Firearms with Armor Piercing rounds can pierce through Heavy Armor without any difficulties, dealing more damage to armored enemies than a regular weapon would do. Damocles and Arrancadora will also ignore armor, giving them this attribute.
Wall PiercingEdit
Wall Piercing rounds can be shot through walls and other obstacles with slightly reduced damage.
Dual with Sword / Dual with HandgunEdit
Handguns with the Dual with Sword Attribute can be wielded along with a Sword that has the Dual with Handgun Attribute.
ExplosiveEdit
Weapons with the Explosive Attribute can cause explosions, damaging several enemies and ignoring armor.
Area DamageEdit
Weapons with the Area Damage Attribute will deal damage to enemies in a specific range from the explosion caused by explosive weapons.
Fast ReloadEdit
Weapons with the Fast Reload attribute have extremely fast reload times: practically instant.
The Heals Attribute makes the weapon heal you and your teamate. The Medkit is the only weapon which has this atttribute.
Table of items with their attributes
Edit

The Excidium seems to be the only weapon in the game with 6 attributes, though in the Armory, only 5 are shown. There is no Area Damage icon, though the damage info says 300-370 +area, proving that it is there.
The B.O.S.C.O image in the Armory doesn't show any Silent icon, instead there is a blank icon, and still used the older version of the Scope icon, with a much thinner outline.
The Betty Boom is the only weapon with zero visible attributes